Introduction
By using the website hosted by LXP Industrial Trust ("LXP") and its affiliates (collectively referred to as the "Site"), you agree to be bound by all the terms and conditions outlined herein (these "Terms and Conditions") and to use the Site only as permitted by these Terms and Conditions. If you access or use the Site on behalf of a business or individual, you represent to LXP that you have authority to bind that business or individual and your acceptance of these Terms and Conditions will be treated as acceptance by that business or individual.  If you do not agree with these Terms and Conditions, you must immediately stop using the Site.
Changes
LXP reserves the right, at its sole discretion, to change, modify, add or remove any portion of these Terms and Conditions, in whole or in part, at any time by posting revised Terms and Conditions on the Site. Changes in these Terms and Conditions will be effective when such change is posted. Your use of the Site after any change to these Terms and Conditions are posted will be considered acceptance of those changes.
LXP may terminate, change, suspend or discontinue any aspect of the Site, including the availability of any features of the Site, at any time. LXP may also impose limits on certain features and services or restrict your access to parts or the entire Site without notice or liability. LXP may terminate the authorization, rights and license given herein.
Services/Registration
LXP may offer services on the Site which may require you to become a registered user. In order to become a registered user you may need to create a username and password, and provide LXP with your first name, last name and email address. Other services available on the Site may require you to input solely an email address in order to receive the benefits of those services.
Certain Services available on the Site may allow you to distribute materials and information downloaded from the Site to third parties via the third party's email address. You represent that you have the authority to provide the email addresses of those third parties, and that those third parties have agreed to receive such materials and information from LXP.
LXP collects and stores the email addresses and other information input into the Site, including but not limited to the email address you use to register for and/or access services and the email addresses of any third parties designated by you to receive materials or information from the Site. LXP may circulate notices, news alerts, materials, updates or any other information to those email addresses in the future. You hereby grant LXP permission to distribute any notices, news alerts, materials, updates or any other information to those email addresses.
Security Of Your Information
If you register for the Site, the information you provide as part of becoming a registered user will be protected by any username and password you create. You can help prevent the unauthorized disclosure of information by choosing and protecting your password appropriately. This includes not sharing your password with others and choosing a "strong" password that includes at least 8 characters comprising at least one capital letter, one number and one non-alphanumeric symbol. You can also help prevent unauthorized disclosure by preventing others from using your computer and/or password, and by completely signing off and closing your browser after accessing the Site.
Intellectual Property
All content included on the Site, including but not limited to text, graphics, logos, button icons, images, and software, is the property of LXP or its content suppliers and is protected by United States and international copyright, trademark or other laws and regulations. You agree to access the materials posted on these pages manually, and not automatically, and solely for your own personal use or in connection with any business relationship between yourself and LXP and such materials may be downloaded to your own hard disk or sent to a printer solely for that purpose. You agree not to copy, modify, broadcast, publish, retransmit, disseminate, commercially exploit or distribute the contents of these pages without the express written permission of LXP. Nothing contained herein confers, by implication, estoppel or otherwise, any license or right under any patent, trademark, copyright or other proprietary right of LXP. All rights are hereby reserved.
Use Of Content
All information and content included on the Site is provided "as is" and without warranty of any kind, either expressed or implied, including, but not limited to, the implied warranties of merchantability, fitness for a particular purpose, and non-infringement. LXP strives to provide accurate and up-to-date material on the Site. However, LXP makes no warranties or representations as to the accuracy or timeliness of the material provided through the Site. LXP assumes no liability or responsibility for any errors or omissions on the Site.
You agree not to take any action, alone or with others, that would interfere with the operation or performance of the Site, to alter the Site in any way, or to impede others' access to and freedom to enjoy and use the Site.
Other Websites
For your convenience, LXP may provide links to websites belonging to other companies. Those websites are not under the control of LXP and LXP does not monitor, make any representation with respect to or assume any liability with respect to any third-party websites, including, without limitation, for any products or services that are advertised or available for purchase through such third-party sites. The fact that LXP has provided a link to such websites is not to be interpreted as an endorsement of their contents. You shall remain solely responsible for protecting yourself from viruses and other destructive elements that may be present on those sites. Please refer to these third party websites for their terms and conditions and other policies.
Securities Of LXP
LXP is not providing investment advice through the Site, and the material on the Site should not be regarded as an offer to sell, or a solicitation of an offer to buy, any securities of LXP or any of its affiliates. If you decide to use any material available on the Site in assessing whether to buy or sell securities of LXP, please be aware that the material on the Site reflects past performance and historical information only, and that such performance and information is not necessarily an indication of future performance. See "Forward-Looking Statements" below.
Forward-Looking Statements
The Site, together with the documents available from this Site, may contain statements that constitute forward-looking statements within the meaning of Section 27A of the Securities Act of 1933, as amended, and Section 21E of the Securities Exchange Act of 1934, as amended. We intend such forward-looking statements to be covered by the safe harbor provisions for forward-looking statements contained in the Private Securities Litigation Reform Act of 1995 and include this statement for purposes of complying with these safe harbor provisions. Forward-looking statements, which are based on certain assumptions and describe our future plans, strategies and expectations, are generally identifiable by use of the words "believes," "expects," "intends," "anticipates," "estimates," "projects," "may," "plans," "predicts," "will," "will likely result" or similar expressions. Readers should not rely on forward-looking statements since they involve known and unknown risks, uncertainties and other factors which are, in some cases, beyond our control and which could materially affect actual results, performances or achievements. In particular, the factors that could cause actual results, performances or achievements to differ materially from current expectations, strategies or plans include, among others, any risks discussed in "Item 1A. Risk Factors" of our most recent Annual Report on Form 10-K and in our most recent Quarterly Report on Form 10-Q.  Except as required by law, we undertake no obligation to publicly release any revisions to these forward-looking statements which may be made to reflect events or circumstances after the date hereof or to reflect the occurrence of unanticipated events. Accordingly, there is no assurance that our expectations will be realized.
Indemnity
Each user of the Site agrees to indemnify and hold harmless LXP, its affiliates, and its and their respective shareholders, partners, officers, trustees, directors, agents and representatives from and against all claims and expenses, including attorneys' fees, arising out of the use of the Site and the content herein.
Limitation Of Liability
NEITHER LXP, NOR ITS AFFILIATES OR ITS OR THEIR RESPECTIVE SHAREHOLDERS, MEMBERS, PARTNERS, OFFICERS, TRUSTEES, DIRECTORS, AGENTS OR REPRESENTATIVES SHALL BE LIABLE FOR ANY DIRECT, INDIRECT, INCIDENTAL, SPECIAL, CONSEQUENTIAL OR EXEMPLARY DAMAGES, INCLUDING BUT NOT LIMITED TO, DAMAGES FOR LOSS OF PROFITS, GOODWILL, USE, DATA OR OTHER INTANGIBLE LOSSES (EVEN IF LXP HAS BEEN ADVISED OF THE POSSIBILITY OF SUCH DAMAGES), ARISING OUT OF OR RELATING TO: (I) YOUR USE OR INABILITY TO USE THE SITE; (II) UNAUTHORIZED ACCESS TO OR ALTERATION OF YOUR TRANSMISSIONS OR DATA; (Ill) STATEMENT OR CONDUCT OF ANY THIRD PARTY ON THE SITE; OR (IV) ANY OTHER MATTER RELATING TO THE SITE OR ITS CONTENTS.
Miscellaneous
Acceptance. If you do not accept all of the terms and conditions set forth in these Terms and Conditions, you may not access or use the Site.
Assignment. You may not assign any of your rights or obligations under these Terms and Conditions without LXP's express prior written consent. LXP may assign its rights or assign or delegate any of its obligations under these Terms and Conditions without restriction.
Enforceability, Waiver and Severability. If any provision of these Terms and Conditions is found illegal or unenforceable, the Terms and Conditions will be enforced to the maximum extent permissible, and the legality and enforceability of the other provisions of these Terms and Conditions will not be affected. No delay or failure by LXP to exercise or enforce any of its rights under these Terms and Conditions will act as a waiver of such rights. Each provision of these Terms and Conditions shall be severable from every other provision hereof for the purpose of determining the legal enforceability of any specific provision.
Entire Agreement. These Terms and Conditions, along with the LXP Privacy Policy, constitute the entire understanding between LXP and you with respect to the matters and transactions contemplated hereby and supersedes all previous agreements between you and LXP concerning the subject matter hereof. You acknowledge and agree that you have not relied on any statement, representation or promise of LXP in agreeing to these Terms and Conditions and the LXP Privacy Policy.
Export and International Use. The Site is controlled and offered by LXP from its facilities in the United States of America. LXP makes no representations that the Site is appropriate or available for use in other locations. Those who access or use the Site from other jurisdictions do so at their own volition and are responsible for compliance with local law.
Good Faith. You agree to act in good faith with respect to each provision of these Terms and Conditions and any dispute that may arise related hereto or thereto.
Governing Law, Jurisdiction and Venue. These Terms and Conditions shall be governed by and construed in accordance with the laws of the State of New York, without regard to or application of choice of law rules or principles. You expressly consent to the personal and exclusive jurisdiction and venue of the state and federal courts located in New York County of the State of New York for any claim or action arising out of or relating to these Terms and Conditions or Your use of the Site. You agree that: the Site shall be deemed to be solely based in the State of New York; the Site shall be deemed a passive website that does not give rise to personal jurisdiction over LXP, either specific or general, in jurisdictions other than the State of New York; and ANY CAUSE OF ACTION ARISING OUT OF OR RELATED TO THE SITE MUST COMMENCE WITHIN ONE YEAR AFTER THE CAUSE OF ACTION ACCRUES.
Headings. The section headings and subheadings contained in these Terms and Conditions are included for convenience only and shall not limit or otherwise affect the terms hereof.
Notices. Any notices to LXP required to be given in writing under these Terms and Conditions shall be delivered either by hand, overnight delivery service or First Class United States mail and shall be pre-paid and addressed as follows: LXP Industrial Trust, One Penn Plaza, Suite 4015, New York, NY 10119-4015, Attention: Legal Department.
Survival. All terms of these Terms and Conditions which by their nature extend beyond the termination of the Terms and Conditions shall remain in effect for as long as necessary to permit their full discharge and apply to each party's respective successors and permitted assigns.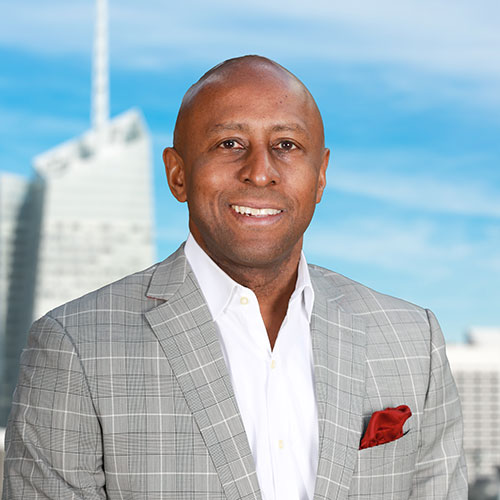 Mr. Johnson has served as an independent trustee since July 2022. Mr. Johnson has extensive experience across strategy, marketing, business development, finance and operations, specifically logistical operations, within organizations ranging from startups to Fortune 50 companies.
Experience:
Senior Vice President of Operations at Agiliti, a medical equipment management and services company, since March 2021
Former President of Southeast at United Parcel Service (UPS), holding a variety of strategic and operational roles for over 20 years
Member of the Georgia Commission on Freight and Logistics
Previously, Mr. Johnson was an Associate of Fixed Income Sales at Citigroup and an Associate at Oliver Wyman (formerly Mercer Management Consulting)
Mr. Johnson brings operational and logistics expertise, with specific knowledge of the logistics user experience and provides our Board of Trustees with related insight.