Join our team of talented, hard-working professionals in a collaborative environment that values diversity and inclusion, professional and personal growth, open communication, and a work life balance.
Our comprehensive benefits package factors in the financial, physical, mental, and overall health and well-being of all our employees.
Community is the core of our organization.
We strive to keep our work community connected, informed, and heard. You will have the opportunity to participate in:
Our people make the difference.
Meet some members of our team to learn more how they contribute to the organization and why they enjoy being part of our team.
"LXP is an amazing company to work for and during Covid-19 they went out of their way to ensure I had everything needed to be productive working from home."
"Work fills a large part of my life, and while it is a job, being at LXP does not feel like work.  The people at LXP make the job fun, and in my department,  we work hard, but we play hard and we have fun when we can."
"LXP has gone above and beyond to ensure that we have all stayed safe and connected. The virtual social events have given me the opportunity to get to know all of those who I didn't have a chance to meet in person."
"Two of the best things about working for a small company are the opportunity to work closely with multiple roles and department and access to and collaboration with the executive team on a regular basis."
Tax Manager, Tax Department
Tell us about your background.
I have a BS in Accounting from Manhattan College and an MBA in taxation and finance from Pace University. Prior to LXP, I was a tax analyst for the Goldman Sachs Asset Management tax department.
How did your career path lead you to LXP?
While I learned a lot at my prior company, I didn't feel a close connection since the company and my department was large. I wanted to go to a smaller company with a more personal environment. Which led me to Lexington Realty Trust. Which was an ideal fit as I could grow with the company.
What has your experience been like working here?
It's been an amazing experience. I've learned so much.  A lot of team players willing to take the time to assist and teach. People with very positive attitudes who share their knowledge.
What, in your opinion and experience, makes for a truly great team?
Team players willing sacrifice to help each other meet the team's goals. Open discussions sharing our ideas and thoughts.  Collaborating to create synergy.
Outside of work – passions, hobbies?
Basketball, handball (big blue), and juggling
Senior Accountant, Accounting Department
How did your career path lead you to LXP?
The interview went really well.  I expressed my desire to not only do the daily work, but to be involved in special projects and tasks as they became available.  The accounting department was,  and is  led by strong, minded smart individuals.  They understood that there is a learning curve, a probation period needed when starting with a new company.  They highlighted the experience of the current team and the team's longevity with LXP.  I was looking for a stable company –  a company that could evolve to meet the growing needs of many stakeholders while still providing a safe, open and conscientious work environment.  LXP has exceeded my expectations.  Blackline is a project that I asked to be on when we were looking for new ways to be more efficient and now, I am the System Administrator.
What has your experience been like at Lexington Realty Trust?
My experience at LXP has been an adventure.  I have had the pleasure to work for and work with some pretty amazing people.  Even though LXP is a job, I don't consider it work.  We get the job done because we are a team, we communicate, we pick each other up when the day seems tough, most importantly we laugh, and we have fun.  The work is what brings us together, but our time spent with each other at work and the social gathering events is what brings us closer.
Outside of work – passions, hobbies?
I am active in my community and I love animals.  I volunteer at the Philadelphia Zoo twice a month.  I also volunteer as an usher at the Arden and Wilma theatres in Philadelphia.  My hobbies are glamping and gardening.  When glamping, I try to pick somewhere or something unusual – I have stayed in tree houses, cabins and RV campers.  Gardening includes not only vegetables but flowers as well.  You should see the smile on my wife's face when I hand her a fresh cut rose from the garden.  I have a passion for NY sport teams with the Knicks and 27 time World Champion Yankees being at the top of the list. 
Acquisitions Paralegal, Acquisitions Department
Tell us about your background.
I graduated from Montclair State University with a degree in Economics and Political Science. Right after college, I started working for a law firm in Millburn, NJ that handled both commercial and residential real estate closings. After two years of working for Spector Foerst & Associates, I was given the opportunity to work for LXP. I started in the legal department but a year later, I was promoted to work with the acquisitions department. It has been a great experience and I am grateful to be part of LXP.
What, in your opinion and experience, makes for a truly great team?
Dedication, communication and accountability are fundamental to a team's success.
Outside of work – passions, hobbies?
Outside of work I like to focus on physical activities, such as swimming and hiking.
SVP, Director of ESG and Corporate Operations, Corporate Department
How did your career path lead you to LXP?
LXP has been my career path! I started here in 2007, right after graduating college and moving from Texas to New York City. I graduated with an English degree from Texas A&M University and had no intention of entering the world of commercial real estate. Fourteen years later…
What has your experience been like working here?
I started working as the front desk receptionist and am now SVP and Director of ESG and Corporate Operations. Two of the best things about working for a small company are (1) you work closely with multiple roles and departments, providing you with the ability to learn a lot about different business functions, and (2) access to, and collaboration with executives happens on a regular basis, which provides terrific exposure and opportunities to learn. LXP has provided me with great flexibility, allowing me to move from NYC to our Dallas office and then to work from home full-time in San Antonio and now Chicago.
What, in your opinion and experience, makes for a truly great team?
I believe the key to a successful team is communication. In my experience, allowing people insight into the bigger picture goes a long way – conversations surrounding what the company is working toward and how individual roles play into those goals make a difference to people.
Outside of work – passions, hobbies?
I love cooking, reading and being outdoors.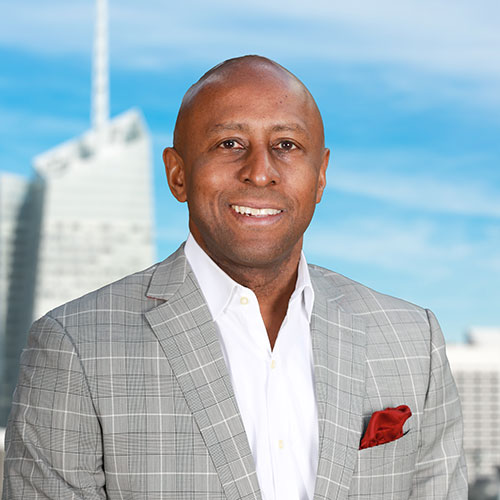 Mr. Johnson has served as an independent trustee since July 2022. Mr. Johnson has extensive experience across strategy, marketing, business development, finance and operations, specifically logistical operations, within organizations ranging from startups to Fortune 50 companies.
Experience:
Senior Vice President of Operations at Agiliti, a medical equipment management and services company, since March 2021
Former President of Southeast at United Parcel Service (UPS), holding a variety of strategic and operational roles for over 20 years
Member of the Georgia Commission on Freight and Logistics
Previously, Mr. Johnson was an Associate of Fixed Income Sales at Citigroup and an Associate at Oliver Wyman (formerly Mercer Management Consulting)
Mr. Johnson brings operational and logistics expertise, with specific knowledge of the logistics user experience and provides our Board of Trustees with related insight.