Introduction
LXP Industrial Trust ("LXP") is committed to protecting the privacy of visitors to its website (the "Site"). You should read and understand the following Privacy Policy ("Policy"). This Policy is intended to provide you with information regarding LXP's collection, storage, use, and disclosure of your personal information ("Information"). This Policy does not apply to services or products offered by other companies or individuals, including third-party sites made available through any of The Site. By using The Site or services available from the Site, except as otherwise stated in a written agreement between you and LXP, you consent to the collection and use of your information by LXP as described in this Policy and the LXP Terms and Conditions located at Terms and Conditions, which is incorporated herein by reference and may include terms which are listed but not defined in this Policy.
LXP may update this Policy in the future and LXP reserves the right to revise this Policy at any time. Any such revisions shall be effective immediately upon notice thereof. Such notice may be provided by any means, including by posting a revised Policy. Your use of The Site or services available from the Site subsequent to such notice shall be deemed acceptance by you of such revised Policy.
Information Collected
Information is collected by LXP through two methods: (i) information provided by you on one of The Site; or (ii) information that is obtained from your use of The Site, in each case, either directly or indirectly through our third-party service providers.
Information provided by you: The Site may provide services, and may offer additional services in the future, for which the collection of your information is required. To become a registered user, you will be asked to obtain an LXP ID which will require you to: (a) provide LXP with your first name, last name and email address; and (b) create a username and password. The Site currently have a news and alerts service, which is part of the services and requires you to provide LXP with your email address.  The personal information that LXP may collect and process in the course of providing or offering services include the following:
Name;
Email address; and
Company Name.
Information Collected from your use of the Site. Based upon your use of the Site, we may automatically collect certain information, such as your usage data, preferences, or other data relating to your use of the Site. In particular, we may collect the following types of information:
Your browser type, language, plug-ins, Internet domain and operating system;
Device compatibility;
Your Internet Protocol (IP) address;
The website(s) you visited before or after visiting the Site;
Unique identifiers, including mobile device identification numbers, that may identify the physical location of such devices;
Geolocation data;
Data collected through cookies and other tracking technologies; and
Data related to your interactions with content on the Site, such as the type of content viewed thereon.
Use Of Collected Information
The purpose of collecting your information is to enable LXP to provide you with the best experience possible. LXP will not sell, trade or rent your information to any third party. LXP may provide data, such as aggregate data, sales, site traffic and related website information, to third parties; however, your information will not be included in such data except in an aggregate manner where the use of such information will not identify you personally. LXP may also disclose anonymized forms of your email address to third parties to enable LXP to provide you with the services you have agreed to receive. In addition, LXP may provide your information to third-party service providers with which LXP has contracted to receive services.
In general, LXP will use your information to: (i) analyze, operate and improve the Site and services, including auditing and monitoring the use of the Site; (ii) customize the content you see when you use the Site; (iii) enforce our Terms and Conditions and this Policy; (iv) conduct market analysis, traffic flow analysis and related reporting to third parties; (v) to manage its business and commercial relationships with its clients, suppliers and vendors, including for purposes of entering into and performing under contracts, leases, and tenant applications; (vi) to market its services, including through investor and marketing e-mail lists; (vii) for purposes of recruitment; (viii) to manage its technology platform, including establishing and maintaining its corporate network, building network (IPBB), and voicemails; and (ix) for any other purposes disclosed to you at the time we collect your information.
Security Of Your Information
LXP uses commercially reasonable procedures to protect the information it collects through the Site. Please understand that no security system is perfect and, as such, LXP does not guarantee the security of the Site, or that your information won't be intercepted while being transmitted to the Site.
Links To Third Party Websites
Although the Site contains links to third-party websites, LXP is not responsible for the privacy policies and/or practices on those third-party websites. Where LXP has linked you to a third-party website you should read the terms and conditions and privacy policy stated on that third-party website as it governs the use of that third-party website.
Children's Privacy
The Site is directed to persons 18 years of age or older. Accordingly, you must be 18 years of age in order to access the Site. If you are under 18 years of age you may not access the Site without the consent of a parent or guardian. LXP does not knowingly collect, distribute or share any information from persons under 18 years of age and LXP is not under any obligation to verify that persons accessing the Site are, in fact, over 18 years of age. If LXP becomes aware that a child under 18 years of age has provided information to LXP, LXP will delete such information as soon as is possible under the circumstances.
Rights Regarding Personal Information For California Residents
Pursuant to the California Consumer Privacy Act (CCPA), California residents receive certain rights with respect to their personal information, as described below. These rights are not absolute and are subject to certain exceptions more fully set forth in the CCPA. California residents have the right not to receive discriminatory treatment from us for the exercise of the privacy rights conferred by the CCPA.
Right to know about personal information collected, disclosed, or sold
Each California resident has the right to request, subject to certain exceptions described in the CCPA, that we disclose to that resident:
the categories of personal information we have collected about them,
the categories of sources from which the personal information is collected,
the business or commercial purpose for collecting or selling the personal information,
the categories of third parties with whom we have shared the personal information, and
the specific pieces of personal information we have collected about them (collectively, a "Request to Know").
To make such a Request to Know, you can either call us at our toll free number (1-833-917-2099), or submit your request here in the Information Intake Request Form.
In the past twelve months we have collected, and in the future, we will continue to collect, the categories of personal information cited in the section entitled "INFORMATION COLLECTED" above from the sources described in that section. We use and share this information with third parties as described in the section entitled "USE OF COLLECTED INFORMATION" above.
LXP does not sell your personal information.
Right to request deletion of personal information
Each California resident has the right to request the deletion of their personal information that we collect or maintain (a "Request to Delete"), subject to certain exceptions set forth in the CCPA. To make such a Request to Delete, you can either call us at 1-212-692-7200, or submit your request LXP Information Request, c/o LXP Industrial Trust, One Penn Plaza, Suite 4015, New York, NY 1011-4015, Attention: Legal Department.
Process for verifying requests of California residents
In order to protect your privacy and security, prior to completing any Request to Know or Request to Delete that you may submit, we must verify your identity. We will verify your identity by asking you to provide certain data that we have already collected from you to confirm that they match our records. In certain instances, additional verification steps may be required.
Authorized agents
California residents have the right to designate an authorized agent to make a request under the CCPA on their behalf. Prior to completing a request made by such an authorized agent, we require that you provide your authorized agent with written permission to submit such a request and require that you or your authorized agent provide us with a copy of such written permission. Additionally, we require that you verify your identity pursuant to the procedure described above.
Termination
If you decide at any time that you no longer wish to receive services from the site, please follow the unsubscribe instructions provided in any of the communications you receive. LXP will cease providing you with services from the Site within 30 days of receiving your termination request and all of your information will be removed and no longer available on the Site. Please note that LXP reserves the right to use your information in any aggregated data collection after termination, however LXP will ensure that the use of such information will not identify you personally.
Questions
If You have any questions concerning this Policy or the Site, please contact LXP at IR@LXP.com.
This policy was last updated December 15, 2021.
LXP Industrial Trust
One Penn Plaza, Suite 4015
New York, NY 10119-4015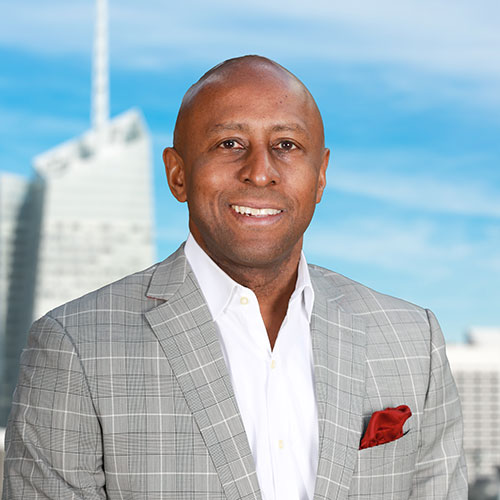 Mr. Johnson has served as an independent trustee since July 2022. Mr. Johnson has extensive experience across strategy, marketing, business development, finance and operations, specifically logistical operations, within organizations ranging from startups to Fortune 50 companies.
Experience:
Senior Vice President of Operations at Agiliti, a medical equipment management and services company, since March 2021
Former President of Southeast at United Parcel Service (UPS), holding a variety of strategic and operational roles for over 20 years
Member of the Georgia Commission on Freight and Logistics
Previously, Mr. Johnson was an Associate of Fixed Income Sales at Citigroup and an Associate at Oliver Wyman (formerly Mercer Management Consulting)
Mr. Johnson brings operational and logistics expertise, with specific knowledge of the logistics user experience and provides our Board of Trustees with related insight.
Committee Memberships
Audit and Cyber Risk
Nominating and ESG